Welcome to The Event Co EA Ltd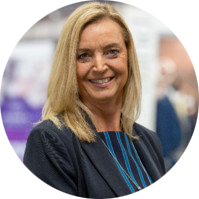 Who is Diana Sims?
Diana is married to Jason and has one daughter, Holly.
What is your background?
I worked for Archant, an independent local media company for 36 years, starting in the customer service department and moving into sales, where I worked with all types of businesses including travel, B2B and retail. I was promoted many times over the years and became a Retail Team Leader, Retail Sales Manager and finally for the last three years, Sales Director for the Bride portfolio covering magazines, shows and our digital platforms across the UK.
Why wedding shows?
It was 14 years ago we entered the wedding arena. As Retail Sales Manager, I started with the Dunston Hall wedding show, once a year and built the show portfolio across Norfolk and Suffolk to 13 shows, including Dunston, (held three times a year), and the popular two-day show, held at the Norfolk Showground.
What do you love about the wedding industry?
What do I love? Wow, it's how dynamic and personable it is. I love talking to all the different businesses across the whole wedding sector and I have made some amazing friends along the way. I love talking to people and that is exactly what the wedding industry is all about.
How can I make the most of an Event Co wedding show?
From an exhibitor's side it's all about promotion. If they promote themselves that they are exhibiting at the wedding show, it will help brides know which businesses will be at the shows.
Once there, hand out flyers to the brides/grooms and don't just sit down behind your stand as this can send out vibes that you are not interested – you want to be engaging with brides all day.
Make the most of your stand – use lights where possible, ensure you have good signage so that visitors can instantly see who you are and when possible offer samples/tasters, as this always helps to engage couples and is a great way of them remembering you when they get home. Offering a show discount also goes down well.
Let them know how far you are willing to travel to offer your services and create your own mailing list – this way you will only get brides that are interested in your services.
From a visitor's point of view, take your time. Identify the exhibitors you really want to see and seek them out first, as they may be talking to other couples and you may need to keep going back. Follow a logical route around the show and speak to as many people as you can, this way you know you are getting the best person for you.
What can I expect from an Event Co show?
Here at The Event Co we know promotion of the show is key. The show will be promoted on our website and we encourage you as exhibitors, to promote it on your website too.
We have dedicated security and marshals to help you bring in your equipment to your stand, we all know how heavy some of the items are but our guys are on hand to help you.
As a bride attending the show we have people guiding you with parking, helping to take some stress away, and a dedicated event team who have worked on wedding shows for many years. And, the most important thing – a range of high quality suppliers, who want nothing more to help you have the wedding of your dreams.