We are pleased to announce that wedding shows can commence and here at The Event Co (EA) we have been given the green light from Broadland District Council that we have complied with implementing Covid 19 Health and Safety guidelines.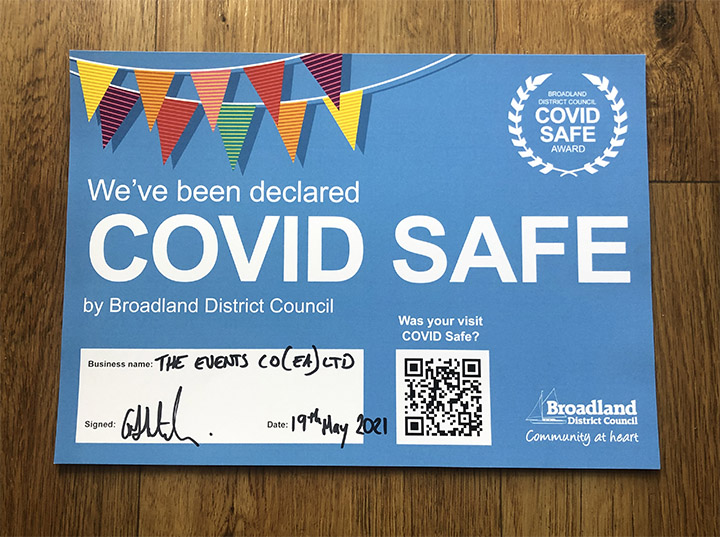 Our Covid-19 Guidelines are below, please take your time to read through these thoroughly before attending any show.
Rest assured all Government guidelines will be adhered to at our shows, your safety is of prime concern to us.
The shows are going to be a busy time as exhibitors and couples are eager to be at the shows. But we want you to feel comfortable whether you are exhibiting or visiting one of our shows.
We work very closely with the venues where we hold our wedding shows so what have we in place for you.
There will be a strict One Way System which will be by Post and Ropes – If you wish to revisit an exhibitor we ask you to follow the show to the end and then re-enter where you started
Numbers control – so we ask you to pre-register your interest to attend at www.theeventcoea.co.uk and click on the wedding show you wish to attend
Time slots to attend the show 11 a.m. to 1 p.m. or 1 p.m. to 3 p.m.
Wider walkway areas and between exhibitors
Hand Sanitizer stations throughout the venue on entering, during and exiting the show
Track and Trace registration on arrival at the venue
Dedicated member of staff to go round to ensure cleaning during the event
Dedicated staff to ensure the flow of traffic throughout the show
Enhanced signage – please follow the signs as this will help you around the show and keep to the required distance from the people in front of you
Face coverings are required following governement guidelines – we will have face masks available on the day if you do not have one
Please do not attend if you have a temperature, cough or any other known Covid 19 symptoms. Also please do not attend if you have recently travelled to any countries where quarantine is required if you are still within the quarantine period.
On behalf of the team at The Event Co EA we thank you for following our guidelines and wish you a pleasant visit to the wedding show and enjoy talking to our exhibitors and thank you for following the guidelines.